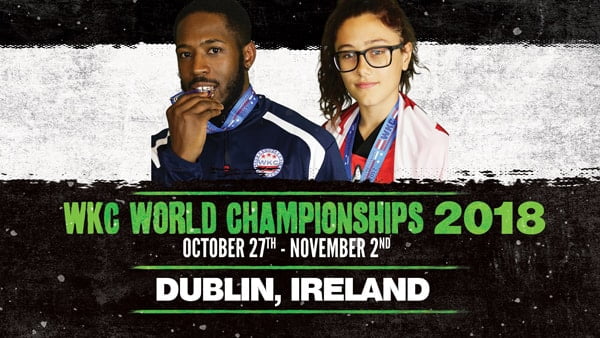 The 2018 World Championships will be taking place in…. Dublin, Ireland!
Mark your calendars for the 2018 World Championships in Dublin, taking place: October 27 – November 4, 2018.
join our Facebook page for the latest updates.
FREE SEMINARS:
All competitors are welcome to attend our free seminars. Seminars are:
Monday evening, Jadi Tention.  The seminar runs from 6:00pm to 7:30pm in the Main Hall.
Tuesday evening, Cody Sanders. The seminar starts at 6:00 pm in the Main Hall.
We will announce other free seminars and times on Facebook, closer to the event.
2018 WORLD CHAMPIONSHIPS
Date:
Saturday, October 27, 2018 – November 2, 2018
Place:
Dublin, Ireland
Hotel/Venue:
City West, Saggart Co. Dublin

**Note: The hotel has gone through major renovations that will impress all our returning competitors!
B&B includes room and a full breakfast buffet

Reservations:
All bookings should be made directly with the Hotel: info@citywesthotel.com or by calling: +353 1 4010500

When booking your rooms, please quote promo code: WKC2018 in order to receive the special discounted room rate.

Official Travel Agent
Rachel Neild, Think Travel Inc.
Phone: 613.799.6687
E-mail: rachel@thinktraveltoday.com
For group and individual flights: Kindly contact Rachel Neild with any inquiries for itineraries and prices.
Visa Assistance
Please contact Susan Mullins: worldkc2016@gmail.com or +003 538 7977 8333
Schedule of events:

Saturday, October 27

 

Registration/weigh-in: 3:00pm-6:00pm

 

Sunday, October 28 

 

Registration/Weigh-in: 10:00am – 2:00pm

 


Referee Clinic: 2:00pm-4:00pm

 


Coaches Meeting: 4:00pm  

 


Official Draw: 4:00pm

 

Monday, October 29   

 

Opening Ceremonies: 9:00am

 


Kata and Weapons Eliminations: 10:30am

 


Jadi Tention Seminar 6:00pm-7:30pm

 

Tuesday, October 30 

 

Sparring Eliminations: 9:00am

 

Wednesday October 31  

 

Sparring Eliminations: 9:00am

 


Registration for all Team Fighting events: 2:00pm – 4:00pm

 


Presidents Meeting: 5:00pm

 

Thursday, November 1

 

Team Fighting Eliminations: 9:00am

 


Kata and Weapons Finals: 1:00pm

 


Junior Team Fighting Finals: 6:30pm

 

Friday, November 2  

 

Finals All Fighting Divisions: 9:00am

 


Night Show Finals: 7:00pm

 


Victory Party: 10:00pm

 

Weigh-in & Registration

Saturday, October 27: 3 – 6PM
Sunday, October 28: 10AM – 2:00PM

All competitors must bring a doctor's note and require a guardian over 18 years old to sign waiver

Cost:

75 euro per start

Spectators:

50 euros/week pass
15 euros/day**WE ARE LOOKING FOR VOLUNTEER SCOREKEEPERS**
Scorekeepers receive a FREE week pass and VIP seating at the Final Night Show with a minimum of 2 shifts.
Please contact Vania Monterroso at info@douvris.com to volunteer.

Rules:
WKC rules
Judges/Officials
Meeting:
TBD
Ring Assignments:
TBD