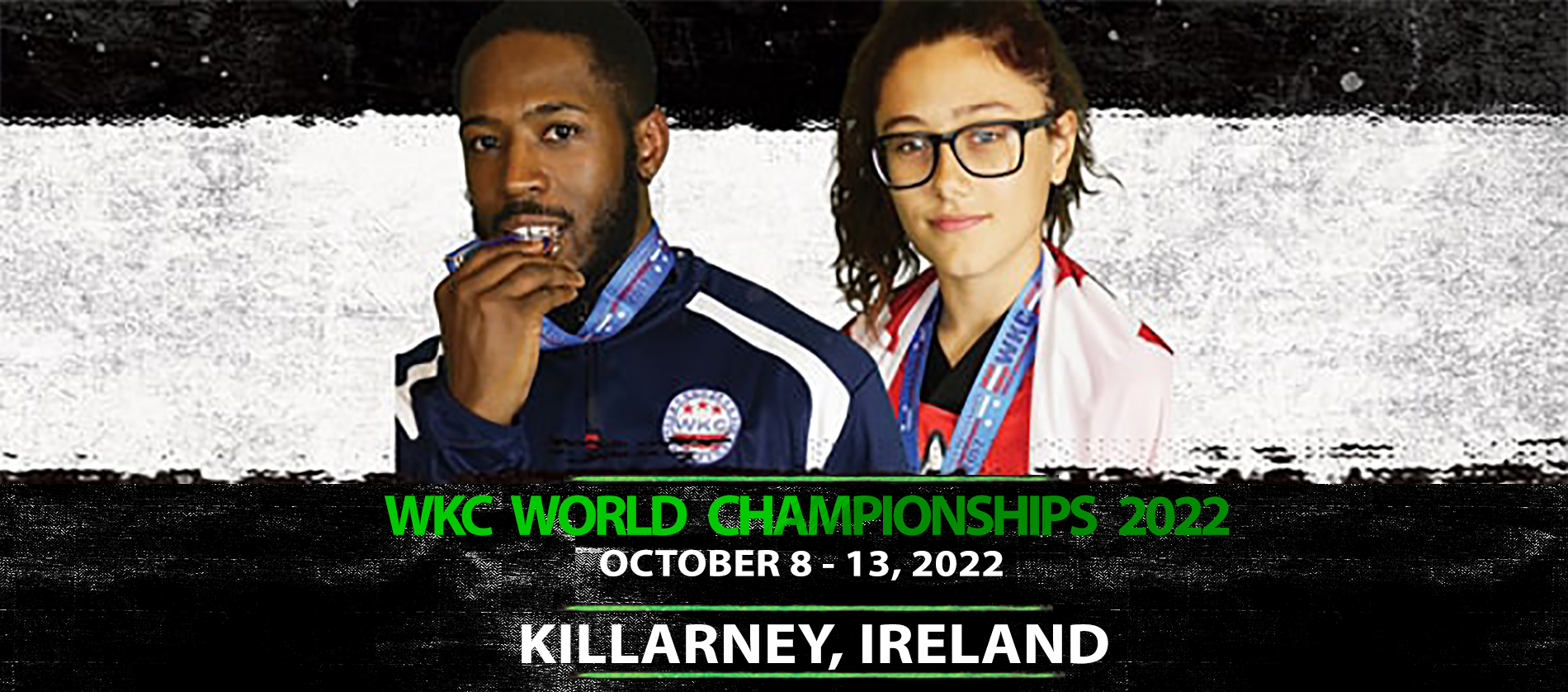 2022 World Championships
Date
October 8 - 13, 2022
Place:
Killarney, Ireland
Hotel/Venue:
The Gleneagle Hotel & Event Centre, Killarney, Kerry, Ireland
Reservations:
Due to the unforeseen circumstances and the limited options for us to host the World's, rooms at The Gleneagle Hotel & Event Centre are not available until Sunday, October 9th. The hotel will accommodate anyone needing reservations before Sunday at a hotel within walking distance. They will then automatically switch the reservation to a room at the tournament hotel on Sunday, October 9th.

For example, anyone who will be in Ireland on Thursday will have a room reserved at another hotel until Sunday, where they will be moved to the tournament hotel.

The booking system for the WKC 2022 event in Killarney this October is open for reservations. Guests can select from a choice of hotels onsite at the INEC Arena including the Gleneagle Hotel and Gleneagle Apartments. A selection of nearby 4-star hotels and apartments are also available to book with variances in hotel locations, dates available and bedroom options.

All hotels are approved by the Irish Tourist Board and are contracted specifically for this event with a set amount of bedrooms.

Please note – reservations made in this system are made through the Gleneagle Hotel on your behalf. If you book an external hotel, they will not have a copy of your reservation until after the booking window closes on the 29th August.

Booking page

Central Reservations email support: info@gleneaglehotel.com

Central Reservation phone support: +353 64 6671550

How to make a reservation:

Click on the page above.

Select your hotel or apartment and date range of your stay (Hotels have different availability dates and ranges but bedroom availability begins from the 07th October).

Enter your details and card details. A 25% NON-refundable deposit will be taken from your card.

You will receive a booking confirmation later in the evening by email.

Your reservation is secure at your selected property (PLEASE NOTE: For external hotels, they will not receive your details until after the balance is collected at the end of August and won't be aware of your reservation until that time).

The balance of 75% will be collected on the 30th / 31st August and this is NON-refundable. If staying at the Gleneagle Hotel or Gleneagle Apartments we will be able to assist you prior to that time.

Guests can check their reservation, make requests or ask questions during this time for all hotels (by phone or email to Gleneagle Hotel Central Reservations support only) An access code is NOT required to make reservations on the link above.

For more information about Killarney please go to www.killarney.ie or www.destinationkillarney.ie.

We wish you the best of luck at the WKC event in Ireland in October. If you require more information please contact Central Reservations on info@gleneaglehotel.com.
Hotel Cost:
Single (1 person) €120
Double (2 person's) €135
Triple (3 person's) €165
All rates include breakfast
Cost are quoted in Euros
Travel Agent:
Rachel Neild
613-230-6222
Think Travel Today
Weigh-in & Registration:
Saturday, October 8th: 3 PM - 6 PM
Sunday, October 9th: 10 AM - 5 PM
Schedule of Events:
Sunday, October 9th:
Opening Ceremony at 7 PM
Monday, October 10th:
Kata Eliminations and Continuous Eliminations at 9 AM
Tuesday, October 11th:
Point fighting eliminations 9 AM
Wednesday, October 12th:
Team fighting eliminations at 9 AM
Kata Finals at 1 PM
Junior Team fighting finals at 6:30 PM
Thursday, October 13th:
Gold-medal fighting finals at 9 AM
Night show at 7 PM
Cost:
80 euros per division
Spectators:
Spectator: €60 / week or €20 / day (euros)
Children 12 and under € 30/week or €10/day
Ring Assignments:
TBD
Rules:
The WKC Rules will be followed. Competitors can check WKC rules.
Judges/Officials Meeting:
Sunday, October 9th at 3 PM
Health Record:
Doctor's note confirming that competitor is healthy to compete or please have doctor complete this form.