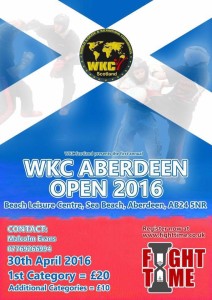 Summary
When: April 30, 2016 at

 10:00 AM

Where: 

Beach Leisure Centre, Beach Leisure Centre, Sea Beach, Aberdeen AB24 5NR

Cost: 

£20.00 for 1 category, £10.00 for additional categories

Contact: 

Malcolm Evans (WKC Scotland), lionsdenstonehaven@yahoo.com, 07769266994
Details
We are excited to bring to you the first WKC Aberdeen Open, this will truly be a great event!! Come and test your skills against the best of the best. We are delighted to announce that in attendance and competing this year is World Champion Gina Thornton who is flying in all the way from the USA, Gina will also be teaching a World Class Point Fighting Seminar on Sunday 31st at the same venue. A pre reg site will be up in the coming weeks along side a full category listing for the event.
The WKC Scotland Aberdeen Open Championships will be an annual martial arts competition where competitors from all over the world assemble to test their skills against the best of the best in their particular discipline. Martial Arts disciplines include, Speed Fighting (Point and Continuous sparring), and are divided by age and/or weight class as appropriate.
(As this tournament expands Kata and Weapons will be added to the competition.)
WKC Scotland championships are conducted in a safe, family friendly environment, professionally officiated and organized.
For more information, or to register visit: http://www.fighttime.co.uk/